Hello again "
dcuny"
- Good to hear from you again.
And this is helpful to know you're using Reaper - That's great. You have the potential for getting the most out of JABB using that DAW program.
Growing pains! I can hear them from here. I want you to know, this really is probably the best, most well-expressed posts about frustrations of MIDI I've ever read! LOL!
OK, so at this point you're experiencing a disconnect between the information you've read and putting them into practice. I get that. I understand you don't play a keyboard, and not to harp on it, but that does put you at a disadvantage. Without using a keyboard, what you have to do is emulate the results one can get using a keyboard.
Your request for a step-by-step tutorial in the way you've described is a reasonable request. I would take that on, probably using a short 8 bar soloist phrase as an example. I'll try to put that together over the next several days - just give me some time and I'll see what I can do.
In the meantime, a few replies. First though, a screenshot I've already posted on someone else's thread this morning. Based on what you've written, I think this visual will be helpful. It's in the Piano Roll View, demonstrating what an Expressive stream of volume data looks like. It also points out the variety of velocities that are essential, as well as the naturally imperfect timing which is also essential for organic results. Other MIDI controllers were used in this segment, but the display was simplified to show just those elements I've mentioned: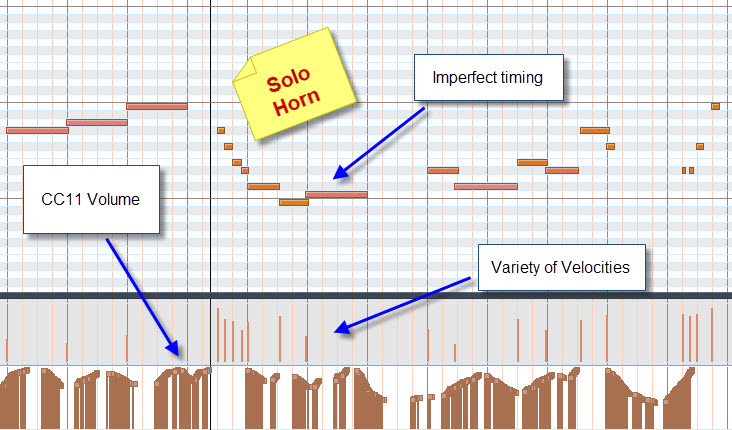 Some replies - then I'll give thought to the tutorial you requested:
dcuny wrote:...For example, begin a simple melodic line - stiff, quantized, and mechanical. Clearly, this is

bad

. So what's the first thing to do?
The first thing would be to not have entered that way in the first place. You're saying you can't play the keyboard, so you need to enter the notes. That's OK - But when you enter the notes you need to turn your Grid off so notes don't snap to their absolutely perfect note values. You can see where the beats are in the Piano Roll View - Place your notes approximately on the money, not precisely. You can always muss them up more or tighten them up if needed.
dcuny wrote:...There obviously isn't a "one size fits all" sort of rule to when to apply which controller to get a particular effect.
That's not true at all. The MIDI Controllers and the effect they have on a software instrument ARE "one size fits all." These Garritan instruments always have their volume controlled by CC1 or 11. Vibrato is always controlled by AfterTouch. All the MIDI controllers have the same predicted results every time they're used.
You're over-thinking MIDI CCs - And my point is that you can always know with confidence what they'll do when you use them properly. And that is the nature of your quandary - right now you're still not sure how to use them "properly."
dcuny wrote:...But then... what? Work with the MOD wheel?...Are you thinking on a note-by-note level, or to the phrase? At what rate do you move the MOD wheel, and how much?
One always thinks of the phrase, however long a phrase you want to tackle. The Mod Wheel is sending out CC1 volume control. The theory is simple - You move it durin playback and listen to what it's doing to the volume. You're in a soft passage, you get used to moving it down - You need a note to swell, you get coordinated enough to start the wheel low and swoop it up during the note. If you're drawing it all in, the same thing applies, but you don't have the advantage of audio feedback as you work.
dcuny wrote:...I'm not a horn player, so I can't "think" like a horn player.
Sure you can. You listen carefully to professional recordings. You can import an MP3 into Reaper for reference. You dig in with your MIDI controls, trying to emulate the sound you hear in the recording. With a bit of imagination, you can start thinking like a horn player, a flutist, a drummer - anything you can think of.
dcuny wrote:...What does an "organic" curve look like, and what's the intent behind it?
That's something the above screenshot can start helping you with. That volume performance was recorded with a Mod Wheel - That's what a naturally undulating stream of volume data looks like. The intent?-to emulate the way a musician is constantly changing the volume of his instrument as he plays it.
dcuny wrote:...Should I start adding vibrato? On all the notes, or just notes a half-note or longer?
Using your ears while listening to some pros playing, you can easily hear that vibrato is on sustained notes. Short notes are too short for vibrato to be involved. On a long note, let the pitch be established, then swoop in with some vibrato, and bring it out again. Just as you can hear for yourself in recordings.
Let me see about a little tute, as to-the-point as possible, with screenshots showing you what's being done, as well as MP3s for you to hear the results. It's a good idea. I'll see what I can do.
Randy