Inspired by
Rob W. Jackson's
post in the Media room:
"GPO Doodle #1" found
HERE
--I put together the following mini-tutorial.
On that thread, Rob said,
"...As a non-keyboard player (I don't even own a MIDI keyboard), I'm keen to try and use the lovely GPO piano in a convincing way..."
It's a drawback, of course, to not have a MIDI keyboard. Even a non-keyboard player can make use of a MIDI keyboard for inputting notes and recording MIDI data from a Mod Wheel and Expression Pedal in real time instead of having to draw everything in, or relying only on notations in a score. But it's possible to insert everything by hand. It's just a bit of a handicap, and calls for more attention to detail.
The thing to do when wanting to get a higher degree of naturalism in our projects is to study recordings featuring the instruments we're focusing on. Listening carefully to audio tracks is helpful, but good MIDI files can be studied directly, if appropriately nuanced MIDI files are located for study.
This kind of study is most easily done in DAW software, but notation users can dig into utilities like Finale's MIDI Tool to make use of this information also.
Since Rob said he wants to work with GPO's piano, I found a site full of fantastic piano MIDI files ready for study, and completely free to download. These are from the actual performances of pianists who were contestants in the...
"Alaska International Piano-e-Competition"
As explained at the website:
"...These highly-nuanced MIDI files were played back to the screening jury at the Piano Salon at Yamaha Artist Services Inc. in New York City..."
The performances are available for download in several formats. The Standard MIDI file is of the most use. As described at the site:
"...This format is intended for playback on all Disklavier pianos and other MIDI devices that read Standard MIDI Files. This format conforms to the normal MIDI specification, but includes data that is not often recorded or played back by other MIDI instruments, such as Note-Off velocity (from 0-127). Pedal data for sustain (the right pedal) and una corda (the left pedal) are recorded as continuous data from 0-127..."
From the website posted above, I downloaded the first file:
Kevin Ahfat
is the pianist, playing J. S. Bach's "Prelude and Fugue in D Minor."
I opened Sonar and opened that MIDI file directly. To retain the tempo in a MIDI file, it must be directly opened and not just imported into an already open project file, even if it's empty. Importing will ignore the MIDI file's tempo data.
The tempo for this MIDI file is 117 and never changes. Later on in the file, I could hear that the pianist was playing in his own time, and so while there are tempo changes in his performance, they aren't part of the MIDI file's tempo data. If that's not clearly understood, it's something to grasp later on. For now, don't be concerned with the file's tempo. We just wanted to make sure the initial tempo value was used, and so the file had to be opened directly.
I examined in Sonar's Piano Roll View. I could see that the file makes use of half-pedaling which the GPO Steinway doesn't recognize. This meant that only the full On values of 127 and Off values of 0 for CC64 were recognized. This caused the track to play with the sustain pedal on almost constantly, since many CC64 values between 0 and 127 were used. So, unfortunately, the entire CC64 track (sustain data) had to be erased. Before deleting it, I could see that the pianist's performance included very active, complex pedaling, - but it had to be dispensed with in this case.
There was still plenty left for study after I erased CC64.
Here's a screenshot of the MIDI file's first few measures. Immediately evident is the natural, un-quantized timing. In the picture I've pointed out just a few of the numerous places where notes were either early or late by a tiny amount. That simply reflects the way in which notes are never perfectly aligned with a grid when performed live, no matter how proficient the performer.
So that's Point #1: To emulate this aspect of a live piano performance, we need to make sure our MIDI tracks are not quantized. If inserting notes by hand in DAW software, the program's "Snap to grid" function has to be turned OFF. The grid in the Piano Roll View is a guide to where the absolute note values are, so with the Snap off, we just aim our input notes to be approximately where they should be, as they are in this or any MIDI file from a live performance.
Point #2: As also pointed out in the screenshot, the velocity values for the notes are in constant flux. This reflects the natural result of a pianist playing the keys, with his fingers never hitting the notes with the same amount of pressure. When inputting notes by hand, at first, the velocities are going to all be the same, so they must be edited in order to emulate this extremely important factor of a natural sounding MIDI recording. We need natural, constantly changing velocity values. In the screen shot above, besides the vertical display of velocities in their pane/lane of the PRV, the notes are displayed at various levels of color intensity to indicate the velocity levels. Lighter colors are lower/softer, darker shades are higher/louder.
AUDIO DEMO:
I opened ARIA, loaded the GPO Steinway, chose the Medium Piano Concert Hall convolution Impulse Response file, leaving the master controls on the Effects window at default.
Here's a screenshot showing ARIA's mixer, with the Piano's Send knob, which determines the amount of reverb applied to an instrument, set to approximately 9:00.
Here's the recording of the first movement in the MIDI file, using GPO's Steinway:
Piano demo
Re-cap:
It's useful to study good MIDI files made from live performances to see what the data is like so we can emulate how a musician performs on a given instrument in a live situation. Two of the most critical factors are always un-quantized notes and a variety of velocity values.
IMPORTANT NOTE:
Since the piano is a percussive instrument, its volume is controlled only by the velocities. But many Garritan instruments, such as all of the woodwinds, brass, and strings, have their volumes controlled by either MIDI Controller 1 (Mod Wheel) or MIDI Controller 11 (Expression Pedal). ARIA interprets both CC1 and 11 in the same way, so the two controllers are interchangeable. With those non-percussive instruments, a variety of velocities is still important, since velocity controls how slowly or quickly notes are triggered, but it's an almost constantly undulating stream of CC1/11 data which is crucial for achieving natural fluctuations in their volume performance.
Here's a final screenshot showing a typical CC1/11 volume performance for these non-percussive instruments: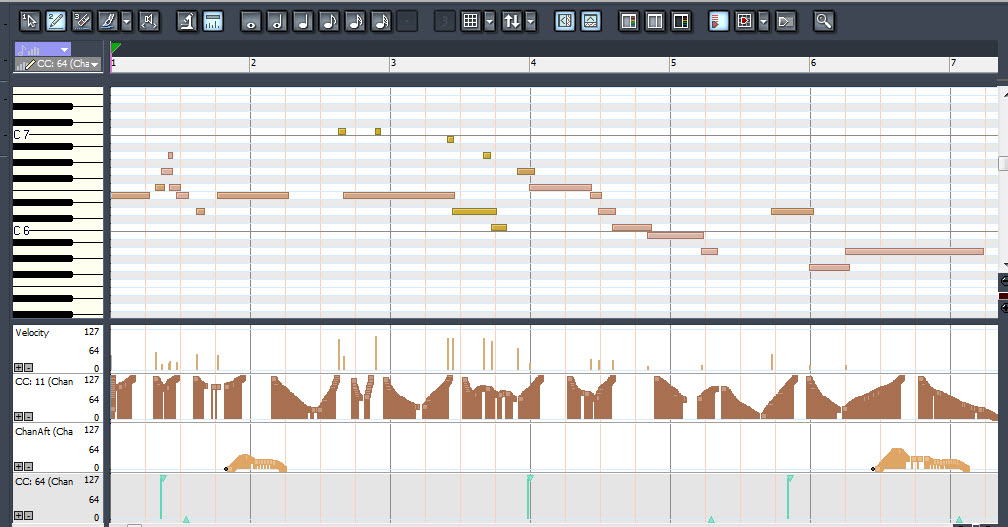 Note in this screenshot you can also see a variety of Velocities, AfterTouch for controlling vibrato, and CC64 for Legato. The instrument being used is the American Native Flute in Garritan World.
SO - Especially when creating projects without the use of a keyboard, we need to do what we can to emulate the attributes of a live performance so our results can come closer to sounding organic and live.
Randy